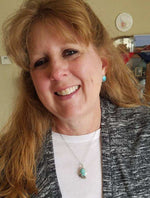 Feature Mom #3 - Mandy Gould
This mom-featured blog is about my mother-in-law, Mandy!
When Cody and I first started dating almost 7 years ago, we were long distance, so we only saw each other on the weekends. Luckily, Mandy and Robert let me stay at their house on the weekend, so I got to know them even more. One thing I have learned about Mandy is she is thoughtful, caring and loves her family with everything she has. Ever since I started dating Cody, she has treated me as family and included me in just about everything.
A little over a year ago, Mandy had to have brain surgery to remove a benign tumor. It was one of the scariest times we have had. She was in surgery for over 6 hours and had to be in the hospital for quite a few days afterwards. During the months to come, even with a few bumps in the road, she recovered faster than expected and stayed in great spirits. Mandy is a strong woman and strives toward her goals.
One thing that I admire about Mandy is that she is a firm believer that you need to do what makes you happy. I think a lot of people stay in jobs or situations in their life because they feel like they have to or they don't want to change careers because of the unknown. Mandy ensures that she and her family lives their lives to the fullest!
Mandy is always there for us, no matter the time of day or what we need. A great example is we had our hot water heater go out at 8pm on a Sunday night. Robert and Mandy were here that night to help us install the new one, so we had hot water the next day. This is just one example of so many thoughtful things that Mandy has done for both Cody and I.
Mandy has made me feel like a daughter and a part of the family, and I am so grateful I was able to gain her as a mother-in-law. She also raised Cody to be quite the gentleman and an amazing husband, if I do say so myself!